AFA Supplement Facts
The benefits of AFA (Aphanizomenon flos-aquae) blue-green algae are directly related to the care and attention given to sourcing and harvesting the product.
---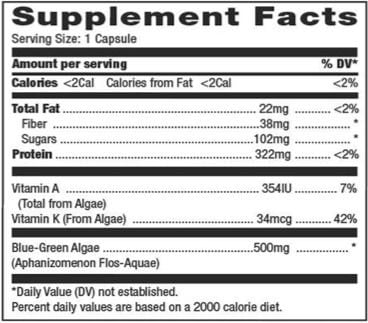 Our quality care begins with the selection of the freshest AFA "Blooms" from pristine Eagle Ridge. The harvesting is quickly followed by rapid chilling of the AFA to 34 to 37 degrees Fahrenheit. Next, our AFA is further purified by careful centrifugation, leaving a product chilled and scrupulously clean. Our AFA is handled more expeditiously from harvest to freezer than any competitive product. Our quality control parameters, coupled with our proprietary final processing, yields the Lake's most potent source of AFA. Non-Freeze, Flash or Spray dried.
Unless you know the source of your AFA, there is no guarantee of quality. Our AFA is harvested by the most competent harvesting team, and staff of engineers in our industry.